Today lots of companies still rely on spreadsheets to collect their data. Among many other advantages, spreadsheets provide an ideal platform for the creation of even the most complex data collection applications. The main downside to a spreadsheet-based data solution is the manual labor required to distribute, compile and process the data efficiently.
CubeDrive is a platform which allows customers to create online applications without coding, apply business logic with workflow, analyze data and share results. CubeDrive helps businesses turn their collective Microsoft Excel files into robust web applications easily.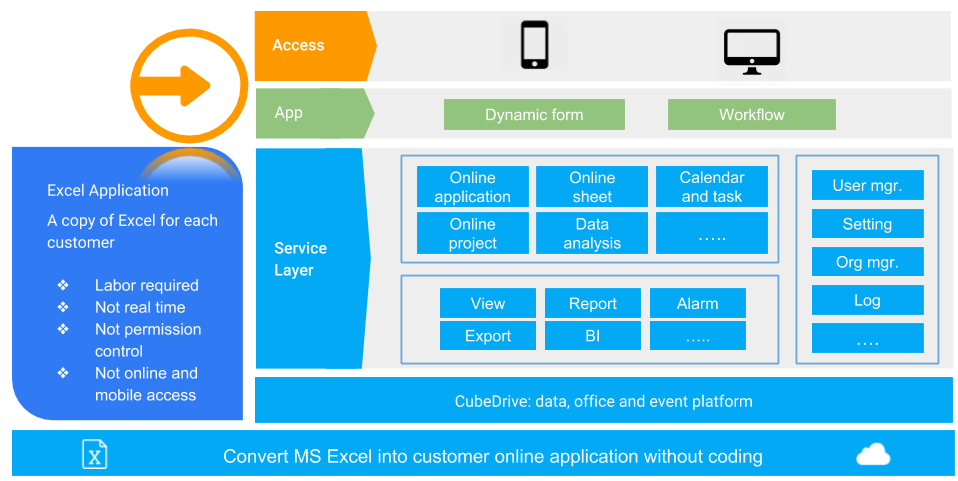 Business Challenges
---
Here comes some general business challenges for Excel users.
Manual process of Excel requiring hundreds of hours to create individual reports for all of the clients in the same format.
Inability to maintain the correct version of the workbooks due to changes and sharing updated versions each time.
Need an online platform with fine-grain permission control for customer data access.
Distribution of the reports in a secure and effective way.
The Solution
---
CubeDrive brings a solution for Excel users to convert their business logic into web applications without coding.
CubeDrive converts customer Excel files into web applications without coding.
Ability to keep spreadsheets in their original look and feel as well as the same functionality.
Easy interface to manage both applications and users.
Easy-to-deploy updates and changes in the applications.
Add workflow to approve the results, track the process and data analysis.
The Result
---
Based on the customer's existing Excel templates, CubeDrive generates customer web-based online applications.
Converting spreadsheets into web based applications with CubeDrive took only a couple of days which saved a tremendous amount of time and money.
Web applications with user authentication also provided the ability to create a user and organization hierarchy with access fine grain control.
End user can access their data anywhere, anytime on any device.
Share and sync edit for customer online spreadsheet.
Back
Try CubeDrive