Business development CRM
---
Keywords: CRM; Business process;
This simple customer relationship management tool makes it easy to keep your team on the same page. Ideal for sales teams, business development teams, partnership teams, and investment teams who need to manage somewhat unconventional sales pipelines and processes. It brings the manager a skyview for the project in drag and drop way.
CRM opportunity management
---
Use this tool to track the contact information your team will need throughout the sales process. Partners, opportunities, and interactions can all be linked together and tracked in one place.
Login in your CubeDrive account, you can click project icon on the sidebar to start build a project with drag and drop method.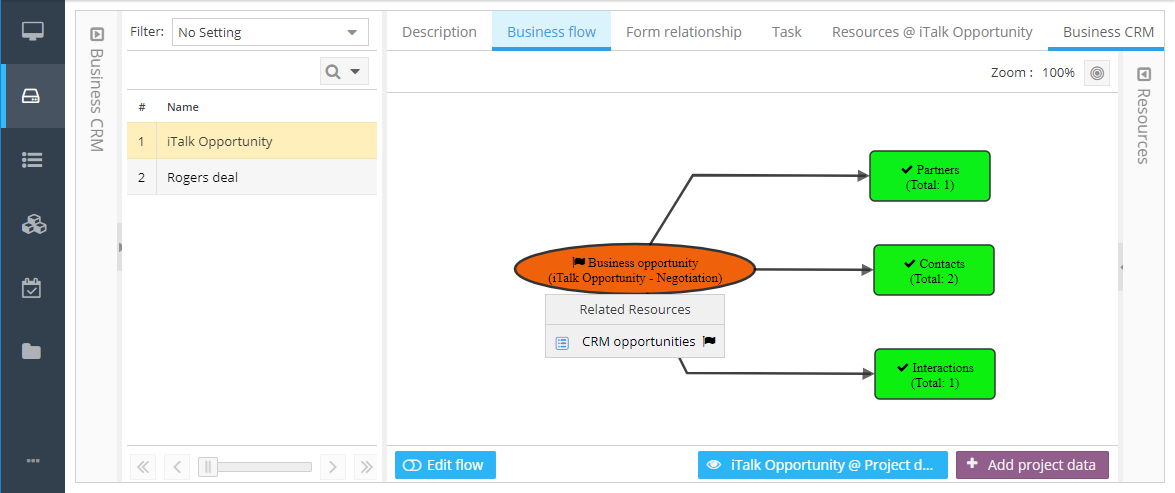 Put all data together
---
Before you create the project and put all data together, you need have the related applications created. In this example, the following forms are created:
Opportunity form - A from includes a list of business opportunity information.
Parnters - A form links partners with the opportunity.
Contacts - A contact form relates to the opportunity.
Interactions form - The form links interactions with the opportunity.

To see more detail for each component, you can click the link in the node and the related form will be opened for view.
Touch
---
You can acess all of your project information with your mobile device.
Back
Try CubeDrive