CubeDrive components
---
Keywords: Data management; File management; Event management
CubeDrive is a platform to create customer online applications without coding. It has three main components which include data management, office management, and event management.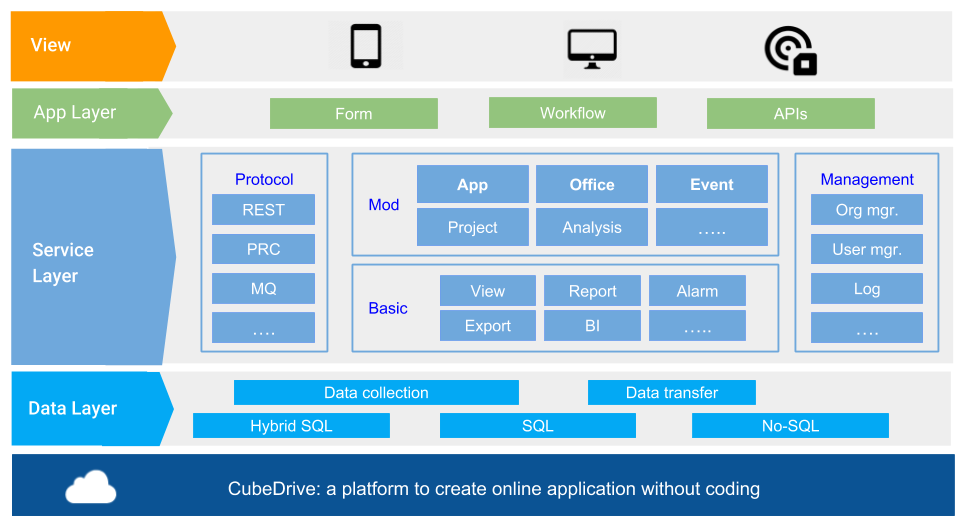 Data management
---
CubeDrive data management allows customers to create applications, projects or even databases without coding, apply business logic with workflow, analyze data and share results. It includes:
Data management
Description
Application
Form and flow are the main parts of the application. The CubeDrive application includes:

Form: form designer allows customers to define the appearance and structure of their application.
Flow: a component lets customers build business logic behind their form in a drag and drop method.
Data analysis: based on the setting criteria, users get the different analysis results in chart format.

Project
CubeDrive Project gives customers an intuitive tool to link their applications together, apply custom conditions and view their project business logic in a skyview.
Database
A tree structure component which each node is binded to the form, with application workflow linked behind.
Office management
---
CubeDrive also allows customers to create an online spreadsheet, online editor, process file management in their own way.
| File management | Description |
| --- | --- |
| Spreadsheet | An Excel-like online spreadsheet which helps to store, manage, analyze and collaborate your business application data in real time effectively and safely. It allows multiple users to sync edit their sheet file. It also supports data imports and exports from MS Excel file. |
| Online Editor | A MS Word-like component with general editor function. |
Event management
---
CubeDrive event and task management applications let you manage your time while giving everyone on your team access to information about events, activities, and schedules.
| Event management | Description |
| --- | --- |
| Calendar | CubeDrive provides a tool for customers to visualize their time-based events. |
| Task | A tool to keep track of individual and team tasks and get them done faster. |
We will have more detailed descriptions for each component.
Back
Try CubeDrive Platform